Introduction –
One of the best things that you will know about punta cana is that it is a beautiful place with white sandy beaches and beautiful pristine turquoise waters. Punta Cana is located at the easternmost tip of the Dominican Republic. It is also known as the second-most popular tourist destination in all of Latin America. There are several good Punta cana villas which is being visited by several of holiday goers every year. Punta Cana is also known to have a tropical climate with clear, cloudless skies. Besides all of that, there are several great things that you can do in Punta Cana, apart from simply going around the beach.
Scuba Diving and Other Activities –
Some of the activities that you can do in Punta Cana are scuba diving, sailing, and snorkeling. Most of the attention of the people in Punta Cana is its coastal scenery and outdoor activities that are thrilling. Apart from all of that, Punta Cana also consists of beautiful cultural sights and many different and beautiful animal encounters. One of the best places that you can visit is Arena Gorda Beach. You will enjoy in this beach because of the wide sands and also the waters that are shallow. This is one of the favourite beaches of many people, especially those who visit here with families. Here you can find picture-perfect views and scenery where you can take pictures.
Water Sports:
You can do here a plethora of fun activities outdoor like that of water sports. Also, on this beach, you will find pearly white sand and beautiful turquoise-coloured water. Swaying besides the palm tree are the sparkling waters. Plus, there are lifeguards who are on duty, so you can be assured and swim in the ocean safely during the day. Other best past times that you can do here is sailing and kayaking. Besides all of that, some other activities that you can do here are to play volleyball or take part in some of the other plethora of activities near the resorts. Next, best place which you can visit is the Manati Park Bavaro. It is one of the first theme parks to be established in the country, in 1996. Here, you can see many different types of exotic animals.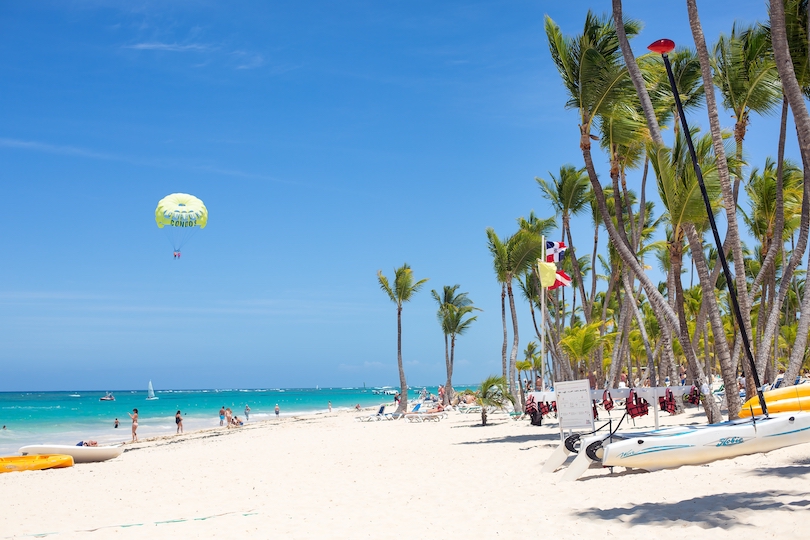 Acrobatic Dolphins
Some other activities that you can do here are to see the traditional dance shows and the acrobatic dolphins and their performances, which help make this place a top tourist attraction. Also, you can witness here the beautiful plant life, and you will come across around 150 species of different animals, which comprise snakes, iguanas, caimans, parrots, flamingos, and much more. The next best activity that you can do is to watch educational and entertaining animal shows like the sea lions doing tricks and the stunt performers riding Spanish horses.